DEAR INTERESTED PARTIES
TeleGuard Business is scheduled to be available at the end of 2023. For our business partners we make a unique offer with an early booking discount of 10%. If you register with us accordingly, we will inform you in advance about the launch of TeleGuard Business version and secure the 10% discount.
Enter the number of your users to see the estimated total price.
Prices excl. VAT per user and year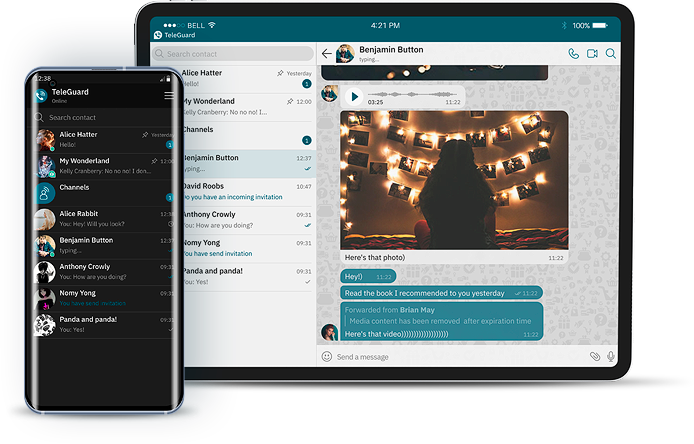 Basic
Enterprise
Pro
CHF

7.90

7,10

CHF

23.90

21,50

CHF

15.90

14,30

For small numbers of users and low functional requirements.

For any number of users, high functional requirements, and individual setting options.

For medium user numbers and low individual functional requirements.

Standard functions
Calendar
Free updates
Videoconference

20

> 100

50

Storage volume

250 GB

1 TB

500 GB

Storage duration

30 Days

∞

∞

Support - response time

24h

6h

12h

Admin functions

Standard

Premium

Expanded
PROCEDURE:
1
Fill out registration form
ATTENZIONE!
Scaricando e installando questa app dall'APK, l'utente accetta la condizione di non sollevare reclami in caso di differenze nella funzionalità dell'app rispetto alle pagine di download ufficiali (Google Play e App Store). L'utente si assume altresì la totale responsabilità per la verifica della disponibilità e l'installazione degli aggiornamenti.
Si prega di notare che l'installazione da APK non è compatibile con l'installazione dal Play Store. Ciò significa che è possibile aggiornare l'applicazione solo dalla stessa origine da cui è stata installata.
Inoltre, quando si aggiorna L'applicazione tramite APK, si consiglia vivamente di eseguire il backup. In caso di problemi, si sarà in grado di reinstallare l'applicazione e ripristinare i dati.
Scaricare


il file APK