DEAR INTERESTED PARTIES
TeleGuard Business is scheduled to be available at the end of 2023. For our business partners we make a unique offer with an early booking discount of 10%. If you register with us accordingly, we will inform you in advance about the launch of TeleGuard Business version and secure the 10% discount.
Enter the number of your users to see the estimated total price.
Prices excl. VAT per user and year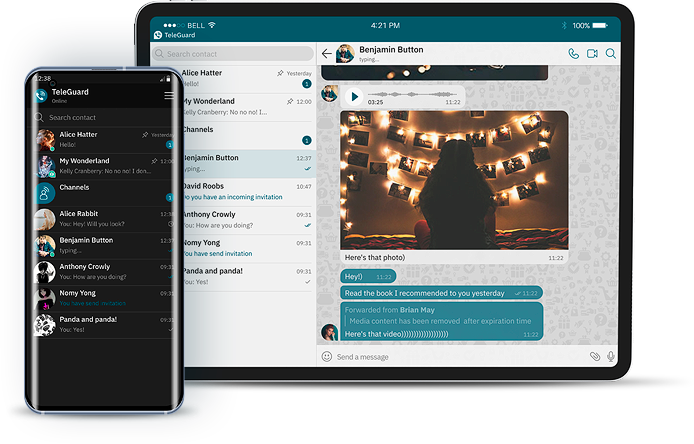 Basic
Enterprise
Pro
CHF

7.90

7,10

CHF

23.90

21,50

CHF

15.90

14,30

For small numbers of users and low functional requirements.

For any number of users, high functional requirements, and individual setting options.

For medium user numbers and low individual functional requirements.

Standard functions
Calendar
Free updates
Videoconference

20

> 100

50

Storage volume

250 GB

1 TB

500 GB

Storage duration

30 Days

∞

∞

Support - response time

24h

6h

12h

Admin functions

Standard

Premium

Expanded
PROCEDURE:
1
Fill out registration form
ATTENTION !
En téléchargeant et en installant cette application à partir de l'APK, vous acceptez de ne faire aucune réclamation en cas de différences de fonctionnalité de l'application par rapport aux sites de téléchargement officiels (Google Play et App Store). Vous assumez également l'entière responsabilité de la vérification de la disponibilité et de l'installation des mises à jour.
Veuillez noter que l'installation de l'APK n'est pas compatible avec l'installation du Play Store. Cela signifie que vous ne pouvez mettre à jour votre application qu'à partir de la même source que celle à partir de laquelle elle a été installée.
En outre, lors de la mise à jour de l'application via APK, nous vous recommandons fortement de faire des sauvegardes. En cas de problème, vous pourrez réinstaller l'application et restaurer les données.
Télécharger


le fichier APK